When you run an aid station, it's sometimes a hard call to know whether to take pics to document everyone's hard work, or to pitch in and help. I managed to get a few shots early on at our storied Lands End aid station, but mostly it was shlepping water jugs and trash, filling water bottles, serving food and snacks, and even providing a little first aid here and there. Injuries were all slight, and the few who needed it pretty much only needed to help themselves from the first-aid kit.
A few of the photos I got follow this …
Here's what's happening with the Lawrence Trail Hawks as of the end of June 2022.
Because volunteering is epic; and there ain't no race without volunteers.
Minutes of the April 2022 Trail Hawks board meeting.
Minutes of the 2022 All Hands meeting, Feb. 26, 2022
Board meeting Nov. 17, 2021
EVENTS
Prowl, Howl, and Growl. This Friday!!! Chili will be provided- bring own utensils. Feel free to bring prepackaged treats to share with the group! Done by 10pm!
Winter Fat Ass. January 1 - 2, noon to noon *Group runs. These are struggling. What should we try?? Later start? Poll? Consistency? Choose your own adventure? Promote!!
38 North Fest. This is a group out of Lawrence that promotes outdoor activities in Lawrence. Oct. 29th 7-9pm Parking lot of Carnagie. Who can help?
RACES
Shoreline Shuffle – Donation. HUGE Success- After paying out made around $350. Going to make a $500 …
Seems like a fever dream after a couple nights' sleep, doesn't it?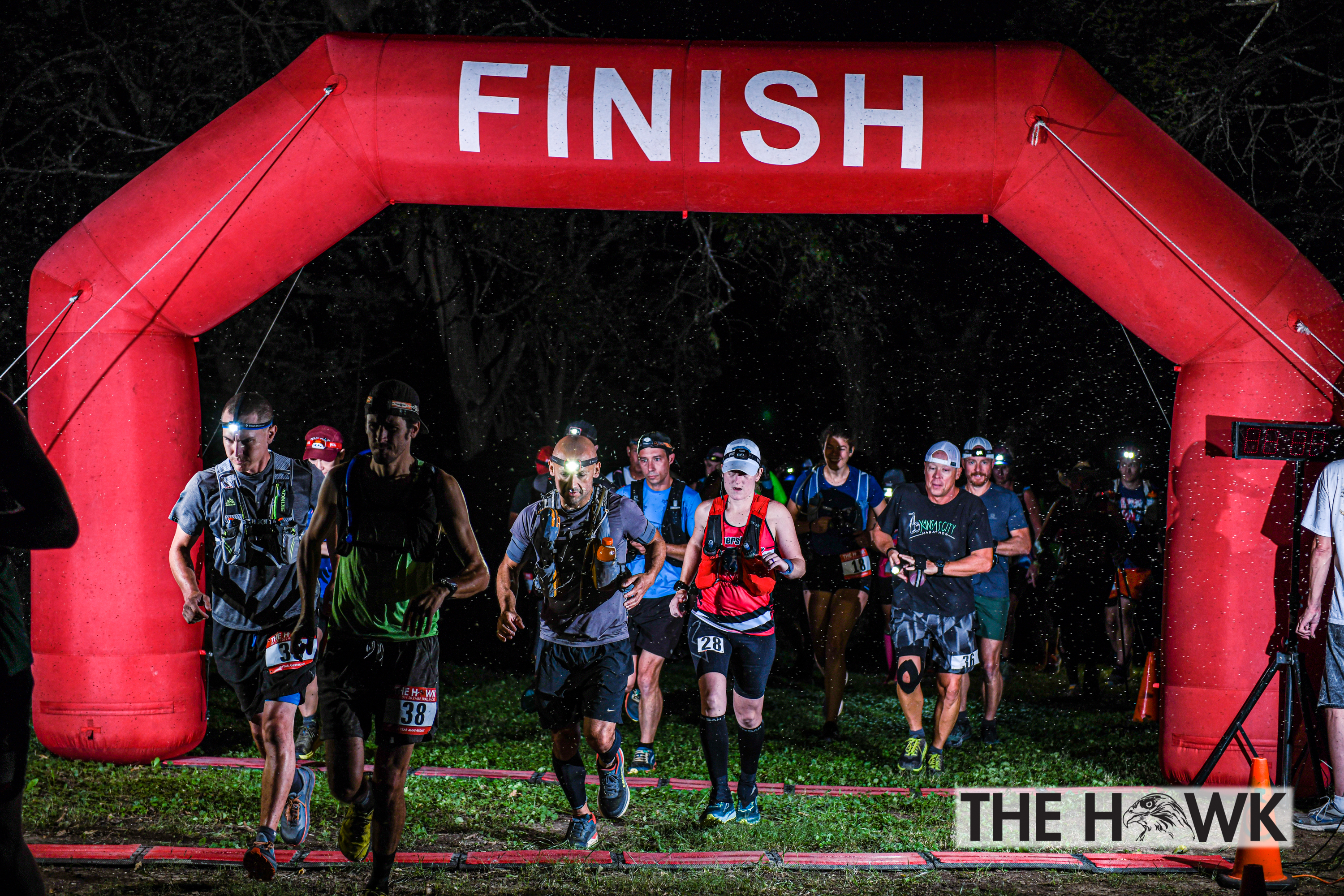 The trails were glorious and devastating for our HAWK runners this year. The terrain. The temperatures. The bugs. It was a lot.
Your race directors will be reviewing the results to make sure we have the most accurate information on our final results. Once we have this done, we will send out a message through ultrasignup and put a link up on the HAWK Hundred Facebook page. If you aren't on the page already, here's the link
Also, White Trail survivors have formed their own support group. …
Meeting date: September 14, 2021 6pm, Lawrence Beer Company They have a great room for this meeting, it was $2 beer night and the brussels sprouts were amazing as always. In attendace: Cara Combs, Jordan Shrack, Mike Miley, Megan Moriarty, Josh McVey, Todd Chandler, Mary Ann Frevert, Dezert Armer
Follow up from Birthday Fatass. Need to send $200 check to Trails Council.
RACES:
HAWK
Was there anything that could have been done to avoid all of the DNFs? Probably not, it simply was way too hot.
Cara provided some data points regarding drop rate, temps of past races.

Eric Viera shares his expertise and tips on how to avoid and handle snakes on the trail. He also dispels some common misconceptions about our reptile friends. 🐍