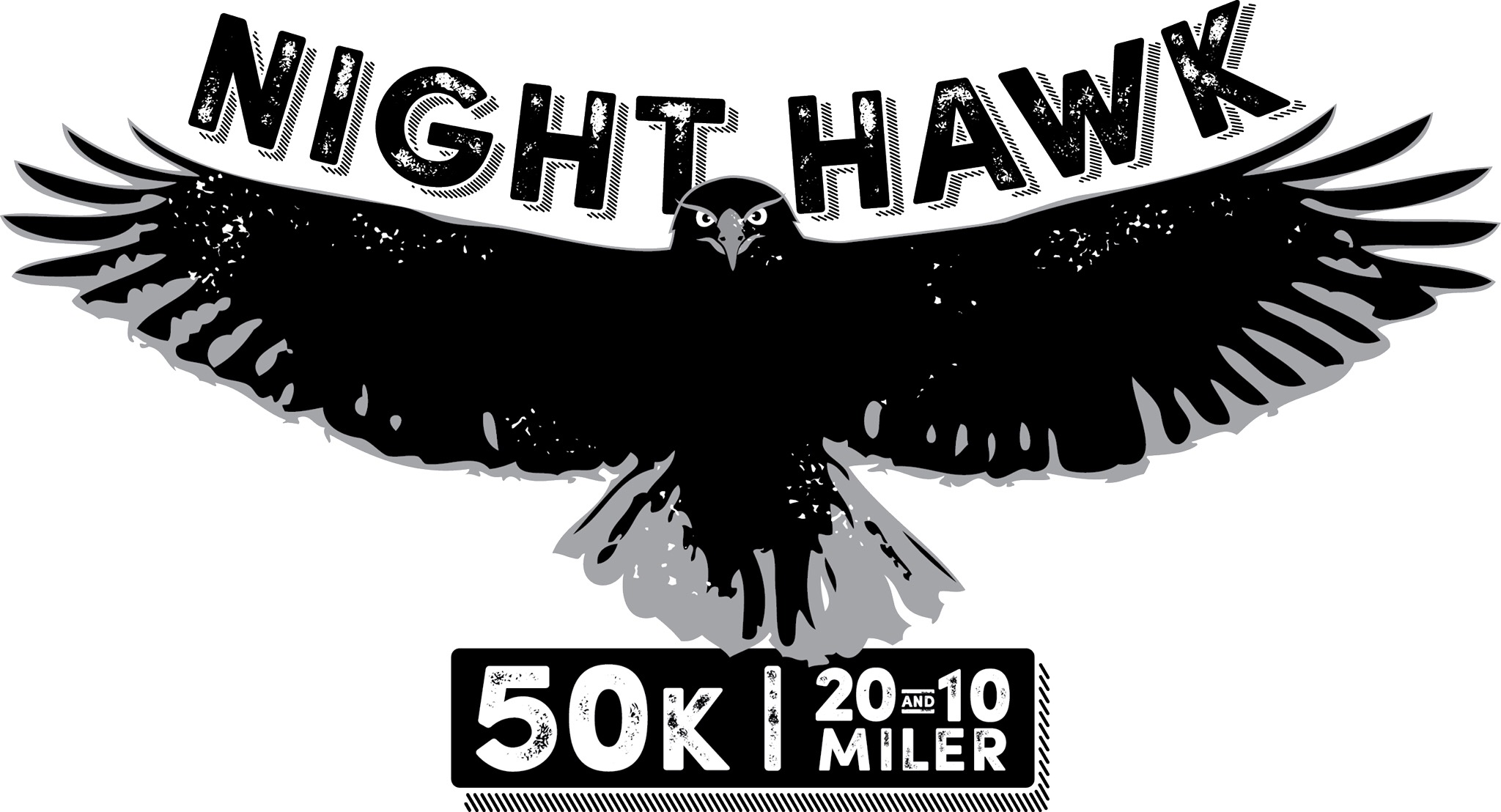 Clinton State Park, Lawrence KS
Race Date: Saturday, June 26, 2021
Race distances: Trail 10M, 20M, and 50K
Start times: - 8:00 PM for the 50K (10 Hour cutoff) - 8:30 PM for the 20M - 9:00 PM for the 10M
Location: Clinton State Park - Corps of Engineers Parking Lot, Shelter 1
The sixth Annual Night Hawk, sponsored by the Lawrence Trail Hawks, has the option of a 50K, a 20-mile and a 10-mile trail race. This year's race takes place on Saturday June 26, 2021 in Lawrence, Kansas.
Race details: The course consists of mostly rocky trails meandering through the beautiful Clinton Lake North Shore woods.
The race loop heads out on the white trail to Land's End (~6 1/2 miles) and returns to the Start/Finish line on the blue trail (~3 1/2 miles). The 10 Miler is 1 loop, the 20 Miler is 2 loops, and the 50K is a 3 loop race with each loop covering 10.3 miles. Aid stations are located at Land's End and the Start/Finish Line and will have water, Tailwind, Honey Stinger gels, chews and waffles, fruit, and sweet and salty snacks.
Swag: Option for a ladies tank, unisex sleeveless shirt, or unisex t-shirt for all runners. Awards: Finisher awards for all runners. Overall top 3 Male and Female for all race distances. Photography: Mile 90 Photography (Free online access to high quality photos included in race price) Race goodies and food offered post-race. Packet Pickup and Registration begins at 6:00pm on June 26. You may register on race day. Pre Race Briefing – 7:45pm on race day
Drop bags need to be brought to the allotted area at the Start/Finish Line aid station by 7:30 pm. Drop bags are only allowed at the Start/Finish Line aid station. Please make sure they are marked with your name and bib #. Thank you.
It is required that all runners carry a water bottle or hydration pack during the race. All runners will need a headlamp. There is a cut off time of 10 hours that begins at 8:00 pm. We will evaluate runners completing their second loop after 7 hours as to whether or not they should attempt to complete the 50K in the allotted time. There are no pacers allowed at this event.
COVID-19: ASSUMPTION OF RISK
"We have taken enhanced health and safety measures – for you, our runners and volunteers. You must follow all posted instructions while attending any Lawrence Trails Hawks Race or Event. An inherent risk of exposure to COVID-19 exists in any public place where people are present. COVID-19 is an extremely contagious disease that can lead to severe illness and death. According to the Centers for Disease Control and Prevention, senior citizens and guests with underlying medical conditions are especially vulnerable. By choosing to attend this race, you voluntarily assume all risks related to exposure to COVID-19." In addition, the Lawrence Trail Hawks cannot prevent you (or your child(ren)) from becoming exposed to, contracting, or spreading COVID-19 while participating in this event. It is not possible to prevent against the presence of the disease. Therefore, if you choose to participate in this event, you may be exposing yourself to and/or increasing your risk of contracting or spreading COVID-19. BY ATTENDING OR PARTICIPATING IN THIS COMPETITION, YOU VOLUNTARILY ASSUME ALL RISKS ASSOCIATED WITH EXPOSURE TO COVID-19 AND FOREVER RELEASE AND HOLD HARMLESS LAWRENCE TRAIL HAWKS AND EACH OF THEIR OFFICERS, DIRECTORS, OR OTHER REPRESENTATIVES FROM ANY LIABILITY OR CLAIMS INCLUDING FOR PERSONAL INJURIES, DEATH, DISEASE OR PROPERTY LOSSES, OR ANY OTHER LOSS, INCLUDING BUT NOT LIMITED TO CLAIMS OF NEGLIGENCE AND GIVE UP ANY CLAIMS YOU MAY HAVE TO SEEK DAMAGES, WHETHER KNOWN OR UNKNOWN, FORESEEN OR UNFORESEEN, IN CONNECTION WITH EXPOSURE, INFECTION, AND/OR SPREAD OF COVID-19 RELATED TO PARTICIPATION IN THIS COMPETITION.
Updates and Additional Information
Feel free to follow along with us on our Lawrence Trail Hawks and Night Hawk Facebook Pages for additional information and details as they become available. Also be sure to visit the Lawrence Trail Hawks at: http://trailhawks.com/ for information about our weekly group runs as well as our upcoming events. There is a link to the Night Hawk Event on the LTH website as well.
Deferment Policy
CHANGING DISTANCE PRIOR TO THE RACE
Runners may make an "event change" on Ultrasignup and change the distance yourself; in the event you upgrade the distance it will generate a code and prompt you to re-register for the new distance. In the event a runner transfers to a higher distance, a pro rata charge will apply. No credit or refund can be given for runners transferring to a lower distance race. You can also contact one of the Race Directors and transfer to a lower or a higher distance. The Night Hawk does not allow runners to transfer entries to other participants.
DROPPING DISTANCE ON RACE DAY
Racers who drop from 50K or 20M to the 20M or 10M will receive a race appropriate finisher award, if available. However, they are not eligible for 1st, 2nd or 3rd place awards.
DEFERRAL
Runners may defer their race entries to the following year, by notifying the Race Directors on or before July 15th. The race deferral is good for one year only. Requests for deferral must be submitted in writing to the Race Directors and runners should make sure their request has been confirmed. The deferral code must be obtained from the Race Directors and used within the first 45 days of the next year's race registration.
DNS, Alternate Course, and Cancellation
DID NOT START
If you can't attend, and haven't deferred, please let the Race Directors know as soon as possible before the start of the race, so your name can be removed from the starters list. You also have the option to remove yourself from the race on Ultrasignup. If you don't show up and don't let us know in advance that you can't make it, you'll be recorded as DNS in the race results.
RACE CANCELLATION OR POSTPONEMENT
We want this race to happen as much as you do so we will do everything in our power to make it happen. However, in the event the race should be postponed or canceled for reasons beyond the control of the Lawrence Trail Hawks (inclement or unsafe weather conditions; local, state or national emergency), refunds will NOT be made. Race packets will be available at a location to be determined or possibly, but not guaranteed, by mail.
ALTERNATE COURSE
If local authorities, Clinton State Park and the Kansas Trails Council trail steward, deem the trails unsafe for runners or vulnerable to damage due to muddy conditions, an alternative course will be provided by the Lawrence Trail Hawks Race Directors, pending approval by Clinton State Park and the Kansas Trails Council Trail Steward.
Race date:

June 26, 2021

Start time:

08:00 PM

Race distance:

10 miler, 20 miler, and 50K
---
Event Information
Click here for a course map.
---
Awards
All finishers will receive an award. The top three male and female finishers will receive a special PLACE award.
---
Race Results