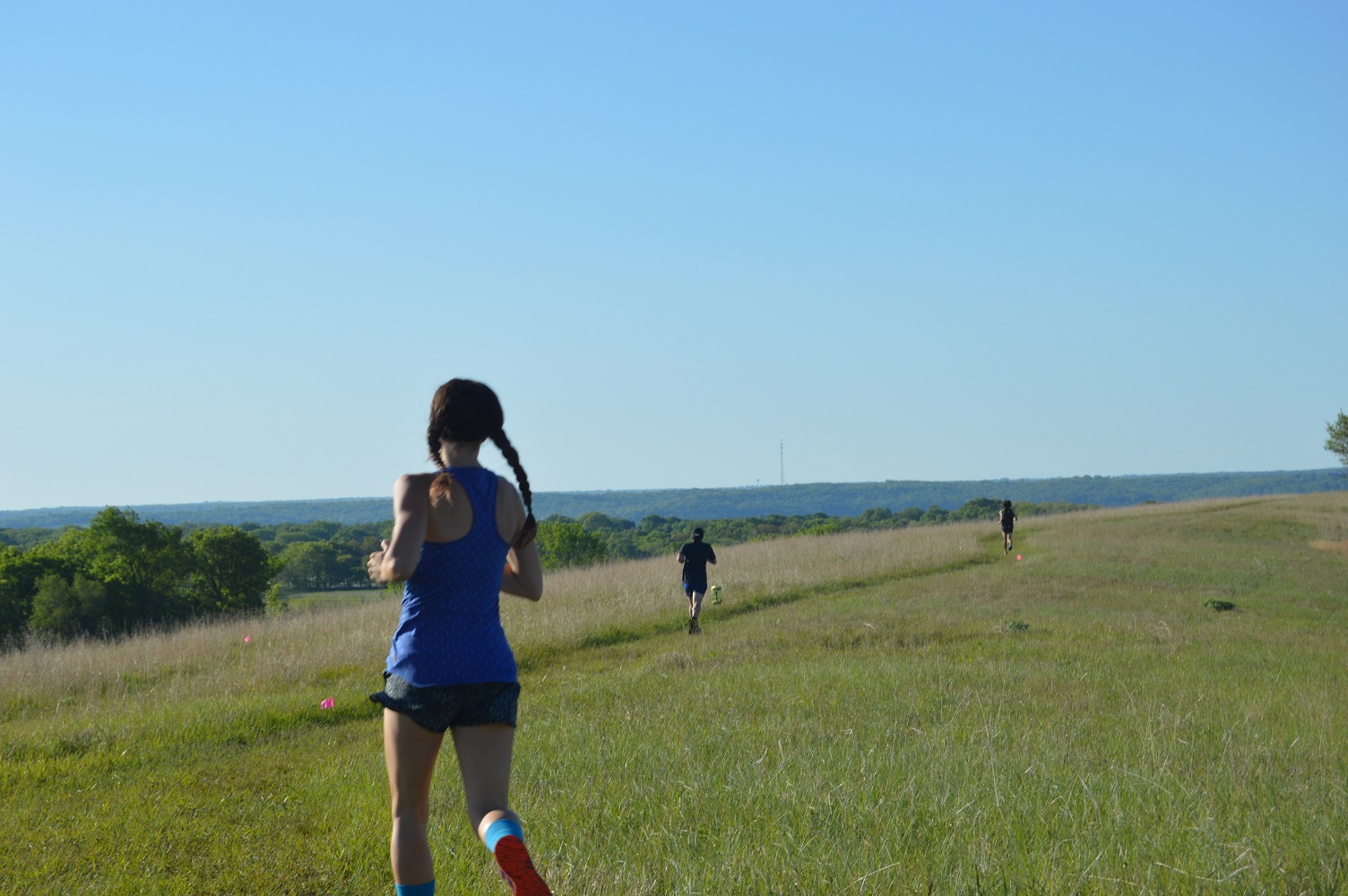 Tough enough for veterans; short enough for beginners, the Skyline Shuffle 5K Trail Run is a rugged romp up grassy slopes and through the woodlands of Clinton Lake State Park. The heart of the run is a nearly 1-mile section of tall-grass trail known as "Bunker Hill," offering majestic views of Clinton Lake and the surrounding countryside. Runners encounter this section twice during the run, and may glimpse the fabled "Sky-Clintie," the legendary winged creature of Clinton Lake, said to have descended from prehistoric times. You will definitely see plenty of other like-minded people out for a fantastic spring race. Snacks at the finish, awards for first three male and female finishers, and cool Skyline Shuffle running socks for all entrants. Hope to see you there!
The race will begin and end at the southwest corner of Campground Three. This is the same area that hosts the West Park Road aid station in the Hawk Hundred, 50 and 26.2 Mile Trail Races. Parking will be in the grassy field next to the large shower/restroom facility on the main road into Campground Three, but we're still confirming this.
From the start, the course proceeds up Bunker Hill and heads east along the ridge, descending across a dirt road, and heading past the "honey ponds" into an expanded version of the wooded Goodwin Loop. The additional section includes a shallow water crossing. You will likely cross with dry feet. Emerging from this section, runners once again climb and traverse Bunker Hill, and return to the start/finish.
This is a challenging, scenic course that lives up to the race moniker "Short enough for beginners; hard enough for veterans." Because of the wonderful views of lake, park and sky from the top of Bunker Hill, the race is named "The Skyline Shuffle." Sign up at ultrasignup.com if you haven't already, and holler at Race Directors Josh or Matt with any questions.
Thanks for your interest and we hope to see you there!
Josh McVey and Matt O'Reilly, race directors
Directions: Upon entering the Clinton State Park Lawrence, KS you will need a sticker for the day if you do not have a yearly pass. Stop at the Kiosk to obtain this. If you arrive prior to the kiosk opening, there is a self-pay station at campground 3 to obtain the parking permit. All vehicles must have this permit.
Proceed West on the main park road to Campground 3. Make a left turn and take the immediate right to the parking area and race check-in. A volunteer will assist with parking. No parking is allowed next to the main park road.
There is a large bathroom facility with showers at this campground and a restroom 500 feet from the finish line.
PREDICTION RUN:
Not in the running for a first-place finish? Not a problem! As we did last year, we will be giving out a "Time Prediction" award. This is an optional completion to see not who can run the fastest, but who has the most precision pacing prowess. Guess your time for the race and let me know by May 5th. Whoever runs closest to their predicted time wins! Interested? Here are the details:
1) Anyone registered online for the Skyline Shuffle, or anyone who registers at packet pickup may choose to go for the prediction award. There's no extra cost and nothing special you need to do during registration.
2) Email me (or tell me at packet pickup) your prediction for what time you will run the Skyline Shuffle in. I need to have the times in by May 5th-race day is too chaotic to be collecting predictions!
3) (Here's the important one)-if you are going for the prediction run, you cannot run with a watch or electronic device capable of keeping track of time! After all, it's not much of a feat of precision pacing prowess if your Garmin is keeping track for you. (Remember-the time prediction is optional if you want to run the race with your phone/mp3 player/GPS/microwave, we'd love to have you, and you're still eligible for the top three fastest men/women awards).
4) We'll have the timer set up in a way so runners can see it as they cross the finish, but not sooner. (Hopefully. I need to think about how that'll work.)
5) Whoever guesses closest to their actual time wins the prediction award. If two runners tie (e.g., two people each manage to be, say, three seconds off their predictions), the award will go to whoever was closest on a percentage basis (that is, the slower runner).
Race date:

July 11, 2021

Start time:

08:00 AM

Race distance:

5K
---
Event Information
Click here for a course map.
---
Awards
1st, 2nd, and 3rd male/female awarded.
---
Registration
---
Dues-paying members of the Lawrence Trail Hawks get $5 off the $25 entry free.
Packet Pickup
5/4 2-4
Ad Astra Running in Lawrence 734 Massachusetts St, Lawrence, KS 66044 Google Map